The History of the Hot Springs of Yamanouchi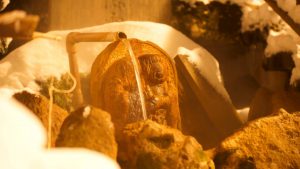 The town of Yamanouchi is dotted with geothermal hot-spring baths.
There are nine hot springs in the Yudanaka/Shibu Onsen resort, seven in Shiga Kogen area and three in Kita Shiga Kogen area.
In this article we bring you some of the history of two hot springs popular with tourists, Yudanaka Onsen and Shibu Onsen.
"Yudanaka Onsen" is said to have been discovered some 1,350 years ago by a Buddhist monk named Chiyu. Upon finding the hot spring, Chiyu built a stone image of the Maitreya Buddha on the east side of O-yu hot spring. It is said that the image became buried with the passage of time but was unearthed in 1130 by the monk Raiko, who re-erected the statue.
The haiku poet Kobayashi Issa had a strong connection with Yudanaka Onsen. The name Yudanaka is said to have originated in a phrase from one of Kobayashi's works, Tanaka Gawara no Ki (1822).
According to local lore, "Shibu Onsen" originated when the high priest Gyoki visited the site and bathed there. To commemorate his visit, Gyoki erected a statue of the Healing Buddha. Later, in 1305, it is said that Kokan Shiren, a Zen monk of Kyoto, opened a hot-spring temple and began operating a hot-spring bath.
Both hot springs have been soothing large numbers of people since ancient times, and each hot spring has its own unique set of qualities, color and efficacies. If you are staying in Yamanouchi for any length of time, be sure to visit as many of its wonderful hot-spring baths as you can.