Play to your heart's content on dramatic ski slopes that straddle the mountains of the Japanese Alps.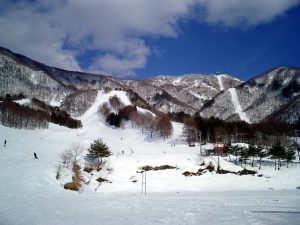 With its cluster of distinctive ski slopes large and small, Shiga Kogen and Kitashiga Kogen together form one of Japan's largest snow resorts. The incredible variety of slopes in the resort's layout means there's something for everyone, from beginners to experienced skiers. Take in panoramic views of majestic mountain ranges as you play winter sports to your heart's content. Numerous money-saving plans are on offer, including a common lift pass for all ski lifts. Stay for several days and enjoy the luxury of sampling a series of different slopes, each with its unique appeal.
via image wikimedia https://commons.wikimedia.org/wiki/File:Ryuuousita.JPG
Our List of Recommended Ski Resorts
Shiga Kogen Ski Resort
This sprawling snow area of 19 slopes large and small is knit together by a fleet of 52 ski lifts and gondolas. With a common lift pass in hand, you can take in slopes ranging from family-friendly bunny slopes to a dynamic obstacle course and even the giant slalom course used in the Nagano Olympics.
Ryuo Ski Park
"SORA Terrace" is perched atop a mountain accessible via one of the world's largest aerial trams (capacity for 166 passengers). Opened in August 2015, this terrace stands at an elevation of 1,770m. Views of the mountains Koshasan, Madaraosan and Myokosan, with the Northern Alps in the distance, are spectacular. If you're in luck, you'll look down on the otherworldly vista of a sea of clouds. Enjoy skiing and snowboarding against an incredible backdrop you'll see only here.
Kitashiga Komaruyama Ski Resort
This ski resort on the north face of Kitashiga Kogen will make you feel at home. The course layout affords fun for everyone from kids to advanced skiers and includes a popular snow park. Amid silky powder snow, savor highland skiing at its finest.
X-Jam Takaifuji
This huge ski slope at the base of Koshasan offers a total run length of 27km. One of Japan's largest snow parks is located here, with some 47 attractions for boarders and skiers alike. For families, this resort affords a fully equipped children's area.
Yomase Onsen Ski Resort
This ski resort is recommended for those who want gain a solid grounding in the basics and improve as skiers. With 13 courses covering 7,000m, these slopes attract competitive skiers from across Japan. You can even choose from one of four ski schools dotted around the resort, according to your interests and needs.